Charity and hilarity combine at Schooner Wharf's Battle of the Bars
The battle lines are drawn for the 17th Annual Schooner Wharf Battle of the Bars, where teams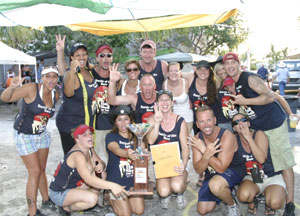 from local watering holes and eateries compete in a hilarious relay race that each year raises thousands of dollars for two local charities.
The showdown begins at high noon on Sunday, Aug. 1 at Schooner Wharf Bar, and there's still time to enter a team or make plans to watch. Old rivalries resurface and new ones emerge, while an enthusiastic and generous crowd watches the explosive action.
The hilariously popular and fiercely competitive event tests the pouring, serving and drinking skills of the island's best, while raising money for two deserving local charities.
Teams of seven "soldiers" from bars and restaurants race through a chaotic relay race while mixing a margarita and serving it to a team member, who must down it before other teammates continue the race by sorting recyclables, tapping a keg and chugging a beer.
The teams race against the clock and each other, and if their times didn't qualify them for the next round, they're encouraged to bribe the judges in order to be allowed another chance on the battlefield.
Some teams spend many months raising money in a variety of ways to bolster their bribery funds, and since the event began, the Battle of the Bars has raised $191,658 for various local charities. Last year's Battle raised a whopping $26,060, which was split between Easter Seals and the local SPCA.
Service workers now have the opportunity to help each other – and possibly themselves. All proceeds from this year's Battle will benefit the Sister Season Fund and the Key West Wildlife Center. This year's charities are very excited to be recipients of the Battle proceeds.
"What better way for locals to help locals," said SSF Board Member Barbara Ramey. "The fund assists those in the food, beverage, hospitality, and tourism industry."
The non-profit, volunteer group helps service industry workers pay utility bills, rents or mortgages during unavoidable hardships.
The wildlife center, located at Indigenous Park rescues, rehabilitates and releases sick and injured wild birds, and last year treated 1,100 winged patients.
"Although we do our very best for the wild birds in the Lower Keys, we could always do better, by improving our facility to aid in helping our feathered friends," said Director Michelle Anderson.
Competition is fierce in this annual confrontation. In addition to the official winners of the Battle, prizes are also awarded for Deepest Pockets (most money raised by a single team) and Most Outrageous Team Costumes.
Bragging rights for the winning team last all year – and are the most coveted of awards.
The Raw Bar Rowdies will be looking for their fifth consecutive win.
"We know the competition is going to be tough but we're not going to let that daunt us," said Raw Bar Captain Stacey Schaaf. "Bring 'em on – the more the merrier – and more money for two good causes!"
But Cowboy Bill's is out for revenge. Bill's Bootleggers took Second Place last year, and are itching for the 2010 trophy.
The team is also one of the most generous, and last year tied with Irish Kevin's for the Deepest Pockets award. The two teams raised a total of $11,000 for last year's charities.
"We were robbed last year with second place," said "Cowboy" Bill Larose. "This year we want First Place and the glory. Everybody watch out, 'cause we're rarin' to go."
Erin Hoffay, veteran team member of Irish Kevin's Gaelic Bangers, said, "I even postponed my vacation to make the Battle of the Bars! It is so much fun! We're planning on taking the trophy for deepest pockets and also fastest team this year!
"We started collecting money several months ago for bribes. We're selling shamrocks; also, if you say a certain word, you have to contribute $1. Our customers also get involved. The first month the word was "shots" -- lots of dollars were raised then! It's fun and it makes work fun too.
"We'll have an Irish themed costume again this year. We're very much looking forward to it, it's a great day!"
But the TGI Friday's team, "Blood, Sweat and Beers," wants to move up in the ranks from its Third Place finish last year, and the combat training has been arduous.
"We're holding the crew captive until they pass the agility test," said TGI Friday's General Manager John Hines. "We're stopping at nothing to make sure we do well – including torture and withholding paychecks."
Teams have been holding unique fundraisers to stuff their bribery pockets, while designers from each team are working up clever costumes to rival last year's Most Outrageous Costume winners, Sebago's Southernmost Shipwreck.
All-day drink specials on Three Olives Vodka, 1800 Tequila margaritas and Michelob Ultra drafts will keep the crowd refreshed, and their wallets well-oiled for donations. Popular emcees Bill Hoebee and Frank Everhart contribute to the good times with color commentary and play-by-play narration.
It's not too late for teams to enter the town's most riotous competition. The $35 entry fee covers all seven team members and each competitor receives a free T-shirt. Sign up today to get your team name printed on the Battle shirt.
Everyone is invited to come watch the waterfront action – all in the name of charity.
"I love seeing all the bar and restaurant staff rallying together for good causes," said Schooner Wharf owner and Battle organizer Evalena Worthington. "The competition is heated, but the teams' generosity and genuine desire to help their community is equally exciting to see, and every year I am impressed with the people in this industry."
For more information or to enter your team, pick up a form at Schooner Wharf or call 292-3773 or 292-3302.