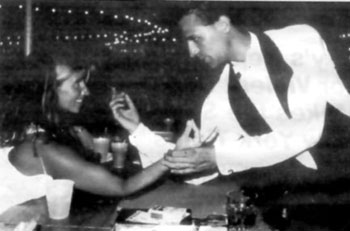 Frank Everhart Jr. is the has been the in house magician at the Schooner Wharf Bar for 16 years. Frank inherited his magical abilities from his father, Frank Everhart Sr. Frank the elder pioneered the concept of the "Magic Bar" a the famous Ivanhoe Restaurant and Lounge in Chicago in the 40's. He was the magician on "The Bozo Show" on WGN Chicago for 10 years. Frank is here performing his unique up close and personal magic 5 nights a week, so come let him amaze you with his talent Wednesday through Sunday starting at 9:00 pm.

MICHAEL McCLOUD & FRIENDS
Fridays-Sundays, Noon-5:00 p.m.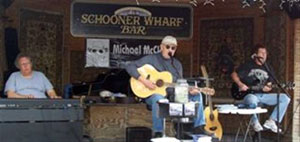 Stalwart Key West troubadour Michael McCloud kicks off afternoons with humorous repartée and original songs that exemplify life at this tropical latitude. Michael is backed by seasoned instrumentalists Captain Carl on guitar, and Professor Pete at the piano.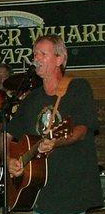 Local entertainer, Gary Hempsey, brings his musical talents to the Schooner Wharf Bar. Gary performs his renditions true to the original, but he interjects just enough of his unique energy and style so that you never forget that you are listening to a live performance. Hempsey is also an accomplished songwriter, he produced Charter Boat Chum Wars and the song was used as a musical piece in a segment of "Fishing in the Keys." Moreover, Gary enjoys playing in the keys and exchanging jokes with the bar patrons.

A Not-to-be-Missed Performance
At Schooner Wharf Bar!
THE DOERFELS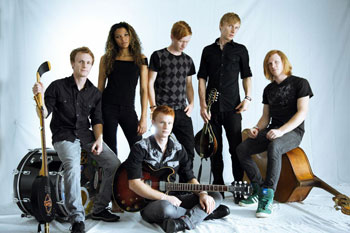 The dynamic Doerfels will be playing at Schooner Wharf on Sunday, July 19 from 7-11 p.m. These young brothers are popular already seasoned performers, with an engaging stage presence. Their roots are in bluegrass and they've branched out into other music genres: Contemporary and classic rock, country, alternative, and pop, all performed in a unique style that's all their own.

Often joined by sisters Nina and Naomi Newton, as well as younger members of both families, these lively kids keep audiences entertained as their wide variety of talent is showcased throughout the evening. Music fans of all ages enjoy t heir one-of-a-kind eclectic energy -- something you won't want to miss!


George Victory, ex-guitarist for Peter Tosh and the Fatback Band, on guitar and lead vocals is teaming up with the soulful sound of Marty Stonely on saxophone, flute and harmony for a night of soul, reggae and funk at Schooner Wharf this Sunday, June 21st from 7-11 p.m.

Well-known local musicians George Victory and Marty Stonely have gotten together to bring you some of the best world beats from Africa and the Caribbean.

George, on steel pan and guitar, is originally from Trinidad and has opened for Paul Simon and The Commodores; had 2 gold albums, played for the King of Morocco and at the Copa Cabana, and more. Joining him is Marty Stonely – a Keys mainstay musician -- on flute, sax and vocals.

Make sure to bring your dancing shoes for their great Reggae and island sounds. It's a guarantee you won't be able to stay in your seats for this rhythmic musical vibration!


Raven Cooper is a favorite local musician – a talented guitar player and singer with a wide range of vocal styles. Her diverse singing ability rivals an earthy Janis Joplin, orchestral Julie Andrews and bluesy Billie Holiday. Playing an eclectic mix of jazz, country, blues, and more, Raven has something for everyone in the place. Her interaction with the audience is always a spontaneous experience and amusing fun! Join us for some truly unique entertainment on Monday, June 29 th from noon till 5:00 p.m. and Tuesday, June 30 th from 7:00 – 11:00 p.m.. For more information, please contact Schooner Wharf at (305) 292-3302 or visit Schoonerwharf.com.

PAUL COTTON BAND
Featuring Paul Cotton from POCO
Friday, Aug 7, 7:00 p.m. – Midnight
Saturday, Aug 8, 7:00 p.m. - Midnight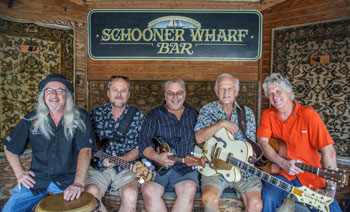 Join Legendary singer/guitarist Paul Cotton and his cast of local legends Joel Nelson, Din Allen, Russ Scavelli, and G Man Shanle as they pump out Cotton's long list of hits composed throughout his 50 year career while leading guitar and vocals with Illinois Speed Press and Poco. With these hits Paul has earned multiple Platinum and Gold Albums along with 3 Hall of Fame inductions!

The Paul Cotton Band will play their last set before Paul heads off his beloved island to tour until October -- truly a "Don't Miss" show.

Two must-see performances with Paul Cotton playing at his home port -- SCHOONER WHARF BAR!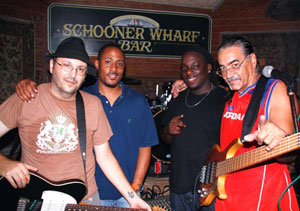 The talent of Cool Breeze ventures from Motown to current rock favorites to Detroit funk to rhythmic island music. Band members have shared the stage with KC & the Sunshine Band, Clarence Clemons, and Darius Rucker of Hootie and the Blowfish.

One of the premier entertainment bands in the Southeastern US, this Cool Breeze coming through will surely make you move, so don't forget your boogie shoes!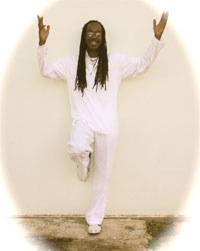 George Victory and the Observant Lion Band are back on the Schooner Wharf stage Friday, June 19th and Saturday, June 20th from 7 p.m. – Midnight.

This five-piece band is fronted by 2 time gold album artist and internationally known guitarist and vocalist George Victory. Joining him are Marty Stonely on sax, flute & vocals, Sam Ramos on bass, Yvan Agbo on guitar and backed by Massai's drum beat.

This band features a variety of Caribbean and African inspired world beats and gets everybody up and on the dance floor, playing everything from Reggae, Funk, Soca, and Classic Soul to 60's and 70's R&B.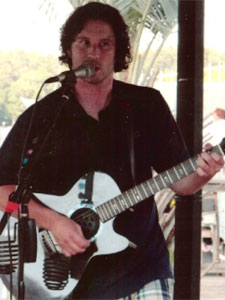 Solo acoustic guitarist Tim Hollohan is bringing his wide range of music to Schooner Wharf. From the '60s to modern tunes, from rock to country, to great sing-along songs, he has something for everyone, and is quickly becoming a much-loved fixture here.

Originally from South Carolina, he got his roots playing mandolin in an upbeat gospel bluegrass band and his later band played the southeast for five years. Although his style has changed, his love for performing is still evident.

Come out and hear Tim's happy, upbeat, toe-tapping songs that make everyone want to raise a glass and dance!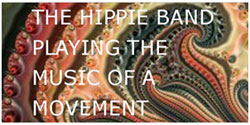 The Hippie Band plays the music of a movement. Gary Hempsey, along with Pete Jarvis, Russ Scavelli, Tom Conga, and Greg Shandly are all well-known local musicians who have their roots in the old Woodstock type of music.

They jam to it all -- Grateful Dead, The Beatles, Crosby, Stills and Nash -- when these guys get together they free flow and let it all just happen, unscripted.

Catch their psychedelic light show, videos and a great vibe. Whenever they get together the excitement shows, so don't miss the Hippie Band.

Appearing at Schooner Wharf Bar
THE CHRISTOPHER DEAN BAND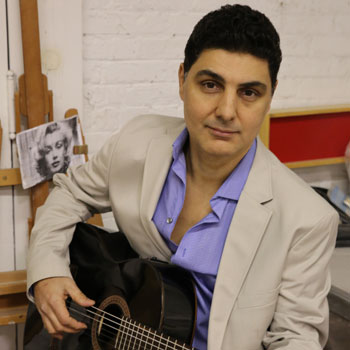 Dean's guitar styles range from Delta, Chicago and Texas blues to jazz, folk, country, rhythm & blues, and pop. Dean has toured worldwide and recorded two albums with internationally renowned Big Jack Johnson & the Oilers.

Bassist David Foti, who also was an Oiler, is the solid, ever present core of the rhythm section since the band's inception. Completing the trio is R&B/soul drummer Chip Dixon.

Christopher Dean always treats the crowd to Blues & Soul at their best!


George Victory, a well-known local musician originally hailing from Trinidad, brings you some of the best world beats from Africa and the Caribbean.

George's guitar and vocals will have everybody up and on the dance floor by playing everything from Reggae, Funk, and Soca, to Classic Soul.

Make sure to bring your dancing shoes. It's a guarantee you won't be able to stay in your seat to enjoy the grooves of this one of a kind sound.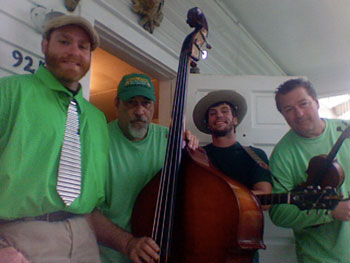 Get ready for some high octane new grass and blue grass with some old-time and new-time jazz. The Greens are here with a little gypsy, dueling guitars, and country thrown in on Monday, July 20 th, from 7-11 p.m.

The band is vocalist and musical virtuoso Gary Mackey, (former fiddle player with Dolly Parton's band), along with Rob Cook, a local Duval Street "washboard-tie guy" on percussion, Dillon Scott on guitar, and stand-up bass player, Steve LaPierre.

Grab your dancin' shoes and come on down for some musical fun….Key West style.

The Bahama Boyz, Keith Ricks & Chris Case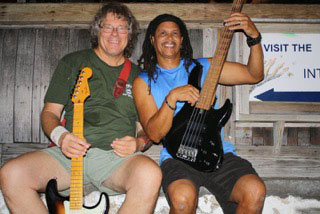 The Bahama Boyz, Keith Ricks & Chris Case bring their jammin' authentic sound of the islands, as well as Motown, funk, rock & blues to the Schooner Wharf stage on Thursday, July 2nd, Tuesday, July 7th and Thursday, July 9th. Guaranteed to get you movin' and groovin' with a case of happy feet!

Sparky Jones and Marty Stonley
Sparky Jones and Marty Stonley will light up the Schooner Wharf stage Monday, July 7th from noon till 5:00 p.m. It's your chance to hear Sparky do his Delbert Mc Clinton tribute which consists of great up tempo jump blues! Sparky is equally known for his reggae performances as well. Backed by Stonley's soulful sax, playful flute and harmony it's a performance you don't want to miss!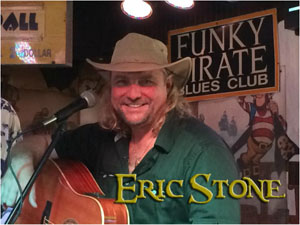 Local guitarist Eric Stone is in from Marathon on Thursday, July 16 th from 7-11 p.m. to deliver a fun-filled show with a variety of music. Along with his special guest musician, they'll have something from country to classic Rock!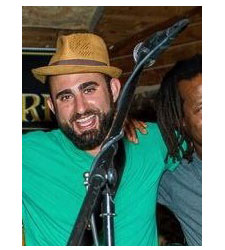 The Chris Toler Band heats it up on Friday, July 17 th, from 7 p.m. 'til midnight. Along with local favorites Marty Stonely on sax, Yvan Agbo on guitar, and Mike Sweeney on drums, they bring a wide range of music to Schooner Wharf.

From the '60s to modern tunes, from rock to country, their upbeat, toe-tapping songs will appeal to music fans in their 20s to 60s!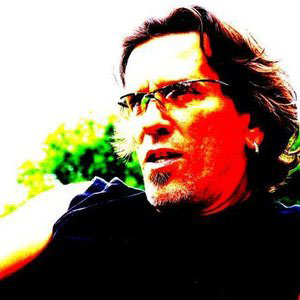 The Pat De Leon Band will rock the Schooner Wharf stage Saturday, July 18th from 7pm till midnight. Pat's an infamous Miami singer and guitarist often compared to Keith Richards. He was the featured house band leader at "Tobacco Road" for decades, and the featured entertainer at Woody's Bar on Miami Beach. He's played in Havana and New York and his work is featured in the Bronx Museum. Catch his high energy show here with drummer Mike Sweeney, bassist Joe Pepper, and sax player Marty Stonely. They'll cover songs from the legendary Rolling Stones, Motown, New Orleans, and Soul.

Come see this bad boy of Rock 'n' Roll…. Pat's a true original Miami creation with a very personal vocal style. Don't miss 'em !


Trop-Rock Music Association award winner Captain Josh brings his upbeat, interactive show to Schooner Wharf on Thursday, July 23rd from 7-1 p.m. He blends Trop-Rock, beach country, original music and an east Texas songwriter flair into an energetic, always entertaining show. His extensive music trivia and fun sing-alongs keep you engaged and delighted. Also a licensed boat captain, he'll amuse you with his colorful lyrics and salty tales of life on the water.

Come out and see why he's quickly made a name for himself in the Keys music scene.


Appearing at Schooner Wharf Bar
COOL DUO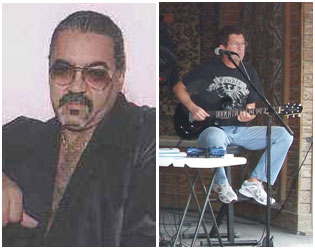 Schooner Wharf welcomes back "Cool Duo", featuring the throaty vocals of Samson Ramos, lead singer of Cool Breeze, and well-known local guitarist extraordinaire Carl Peachey.
Both mainstays in the Keys' music scene, they form a not-to-be-missed, talented guitar combo. Their wide range of funk, blues, reggae, soft rock, country, and jazz makes for a super cool night!

Making a Much-Awaited Return Appearance at Schooner Wharf Bar!
HOMEMADE WINE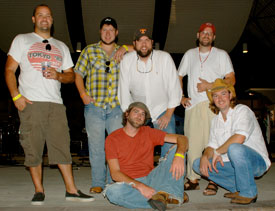 One of the hottest up-and-coming bands is back at Schooner Wharf and will have you leaning back and sipping a margarita in no time! They're trop-rock, country, and southern acoustic rock rolled into one. Although they're heavy into the Jimmy Buffett style, they've also branched out and created their own genre that's quickly becoming widely known and loved.

This 6-piece energetic band based in Knoxville, has taken top honors in Beach Front Radio's Best of 2010 poll by taking #1 New Band, #1 CD, #1 Song with their original "Her Kiss," and #1 New Male Vocalist, Ryan Sheley.

Come out and see why they're rising fast!

For more information, please call Schooner Wharf Bar at (305) 292-3302 or visit Schoonerwharf.com or Facebook.

Click here to see Band Bios from the past