Tree Trimming Party
'Tis the Season at Schooner Wharf!
Come to the annual Schooner Wharf Bar Tree Trimming Party
Sunday, Dec. 5th beginning at 5 p.m.
2010 Schooner Wharf Tree Trimming Results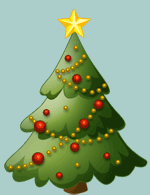 If you can not be home for the holidays, then come hang an ornament at the harbor and make our tree yours. Bring your own nautical ornament for the live 8-foot tree, and enjoy a free holiday cocktail ---- egg nog with rum, Swedish glogg or a hot applejack.

Your ornament will be entered in the holiday contest and prizes will be given for the most original, most nautical and most popular with the crowd. You could win a bottle of Piper Heidsieck champagne or Schooner Wharf Galley Breakfast for 2 with Mimosa's.
Then celebrate the holidays in true island style and be entertained by the charismatic performance of The Doerfels.

But what would the holidays be without a ham dinner and other holiday beverage specials?

Drinks, decorations and dinner at Schooner Wharf Bar is proof that there can be tannenbaums in the tropics!

For the eleventh year in a row, the Schooner Wharf "Breakfast Club" is sponsoring a "Toys for Tots" toy drive on Tree Trimming Day. Each of you Santa's who donate a gift to this worthwhile cause will also receive a free holiday drink.

For more information call: Evalena or Sheree at 292-3302