Leather and Lace, Chrome and Steel for Bike Week
The party starts where the ride ends…
Click Here for 2010 Winners and Photos
Schooner Wharf Bar is excited to be chosen as the last stop and is getting revved up for Key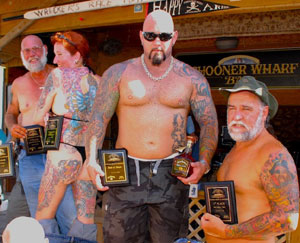 West's annual Poker Run this weekend when leather and lace, skin and ink, chrome and steel combine perfectly under the sun at the water's edge. It's where the last hand will be drawn and it ain't over 'til it roars into Schooner Wharf on Sept. 17th.

So park your Hog and then eat some at the Welcome Party and Hog Roast where the festivities start on Friday at 5 p.m. Enjoy mouth-watering barbequed pork, citrus-marinated and dry rubbed, smoked perfectly over Mesquite and fruit wood. Add all the fixin's -- black beans, plantains, yellow rice, and Cuban bread – and it's enough to satisfy a hearty appetite, kick off the weekend and kick up your boots to classic rock 'n' roll and blues all night.

Then rumble back down to the legendary waterfront watering hole Saturday afternoon for the Paradise Tattoo Show and Contest.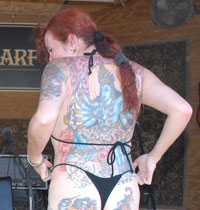 Show your ink, then get a drink in paradise. Cash, trophies, gift certificates and prizes from Paradise Tattoo and Schooner Wharf will be awarded for the Best Tattoo in eight categories – small, color, tribal, back, sleeve, black & gray, female and male. With many artistic and finely detailed entries, it's always a tough competition for the grand prize, Best of Show. Registration begins at 2 p.m. for the 3 p.m. contest on stage. The contest will be emceed by Magic Frank Everhart.

Listen to the musical humor of singer/songwriter Michael McCloud, some of the best music you'll ever hear and the greatest of times, while checking out the amazing paint jobs – on both skin and steel.

And stick around for another eye-popping, skin-bearing experience, as some of the town's hottest ladies take the stage to show more than ink in the Rock 'n' Roll Fashion Show at 6 p.m.

Key West Burlesque will feature solo performances by the Girls of Wild Wheels and High Heels Biker Burlesque Revue, which promises to be hotter than black leather in the summer time.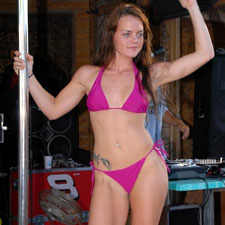 The custom-built, colorful pin-up show features tantalizing song, dance and barely-there costumes by these talented ladies.

And then settle in for a night of live music and loud mufflers, as Hat Trick, south Florida's high energy rock 'n' roll band, jams classic rock and blues all night long. They'll be on stage from 7 p.m. – midnight on both Friday and Saturday.

It's all enough to work up quite a thirst, and it's a good thing with drink specials on Jack Daniel's cocktails and icy cold Budweisers. Denim, tattoos, black leather and blues – what combination could be better for a jammin', revved up weekend?

For more information, call Schooner Wharf Bar on the Harborwalk at (305) 292-3302.

Appearing at Schooner Wharf Bar
For POKER RUN 2010
MICHAEL McCLOUD & FRIENDS
Friday-Sunday, September 17th-19th, Noon – 5 p.m.

Making a Much-Awaited Return Appearance for Two Nights!
HAT TRICK
Friday, September 17th, 7:00 p.m. – Midnight
& Saturday, September 18th, 7:00 p.m. – Midnight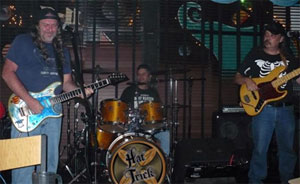 Live music will rev it up from the best of acts for Schooner Wharf's Poker Run events – a weekend long party.

Enjoy the music and humor of Michael McCloud & Friends daytimes, followed by the power of Hat Trick evenings with their high-energy rock 'n roll and blues.

It's no wonder that Hat Trick bills itself as "The Real Hardest Working Band in South Florida", given their take on classic rock and blues and their 15-year history of opening for such acts as Foghat, Three Dog Night, Steven Tyler, Molly Hatchet, Steve Miller, and more. With guitar, bass, drums and booming vocals, these guys churn out smokin' rock classics and blues like a well-oiled machine.

Don't miss the party that everyone waits for – come out and see what's in the cards! Good tunes, good brew, bikinis, and tattoos. For more information, contact Schooner Wharf Bar at (305) 292-3302.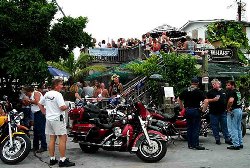 Click HERE for 2009 Winners & Photos