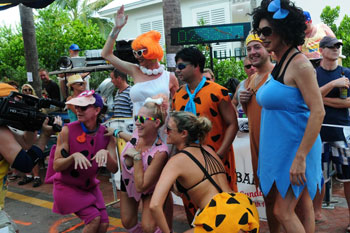 A day of beers, bartenders, margaritas and mayhem helps to dramatically improve the lives of local residents and local causes – only in Key West.

The 24th Annual Battle of the Bars at Schooner Wharf Bar will take place Sunday, August 6th at noon, and local "bar squadrons" are preparing for battle and hi-jinks.

Teams of seven race against the clock and each other in a hilarious obstacle course that fills the street in front of Schooner Wharf Bar and lines the pockets of two local charities.

Proceeds from this year's 24th anniversary Battle of the Bars will benefit Boys and Girls Clubs of the Keys Area, Inc and the Bahama Village Music Program. The money raised at Battle of the Bars will help ensure the continuance of both their missions.

In the race, team members must mix a perfect margarita, serve it without spilling, tap a keg, sort recyclables, and chug a beer.

Which staff will have the right stuff, and which will be dishonorably discharged from the battle site?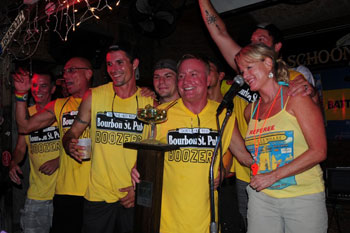 The entry fee of $35.00 ($5.00 per team member) and all "bribes" will be donated to local charities, Boys and Girls Clubs of the Keys Area, Inc and the Bahama Village Music Program. All participants will receive a free Battle of the Bars T-Shirt (compliments of Eagle Brands/Michelob Ultra). Sign up before July 27th and your team's name will be printed on the T-shirt.

Trophies and bragging rights will be awarded to 1st, 2nd, and 3rd place. There will also be prizes for the Most Outrageous Team Costume and Deepest Pockets.

Everyone's done a terrific job in the past, and last year, everyone's helpfulness raised an outstanding $319,752 raised over the years.

Co-sponsored by 360 Vodka, Michelob Ultra, Pepsi Refreshment Services, Herradura Tequila, Monster Energy Drink and Sun 99.5 Radio

Look for a flyer, stop by Schooner Wharf or contact Evalena to sign up at or 292-3773 or 292-9520, or e-mail [email protected].