2015 Wrecker's Cup Race Series!!!
No protests, no pageantry, just race with us - or against us!
2016 Wrecker's Cup Race February Race Results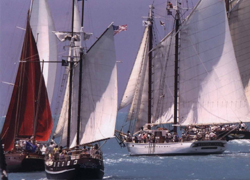 It is once again time for the 2nd race in the popular Schooner Wharf Bar Wrecker's Cup Race Series, when local captains, crews and passengers race the seven miles to Sand Key on an annual quest for bragging rights on this small island.

The "day of wreckoning" is Sunday, February 22nd at 1:00 p.m. The Racers will compete in 7 different classes: Classic, Schooner, Multihull, Monohull over 40 feet, Monohull 30–39 feet, Monohull 25-30 feet, Monohull 24 feet and under. 1st, 2nd & 3rd place will be awarded in each category, with trophies, Pusser's Rum & Schooner Wharf Bar Tabs as prizes.

There is nothing to rescue at Sand Key, except bruised egos from the last race, but the anything-but-serious race is still on. Join your friends, captains and mates for a day of rivalry on the high seas.

The entry fee is $30.00, which includes free Pusser's rum punch and hors' deourves courtesy of the Schooner Wharf Galley at the Captains Meeting on Saturday, February 21st, at 7:00 p.m. on the upper deck of Schooner Wharf.

The Awards Ceremony will take place after the race on Sunday at 7:00 p.m., where all wreckers can feast on a BBQ dinner and share sailing stories while watching their maritime adventure on a big screen television. The public is welcome to watch the regatta video at Schooner Wharf, home to the largest working fleet of Schooners on the east coast. Bring your dancing shoes because adding to the festivities will be live music.

Winners will receive a bottle of Pusser's Rum and a Wreckers Cap along with the antique looking trophies commemorating their victory, bar tabs and Wrecker's Race Tee Shirts sponsored by Schooner Wharf Bar.

But the crews and captains are not the only ones who can participate in the fun. The race is a great way for captains to fill their charter boats for an afternoon sail, as locals and visitors to the island get to take part in a seafaring adventure.

For more information, call 292-9520.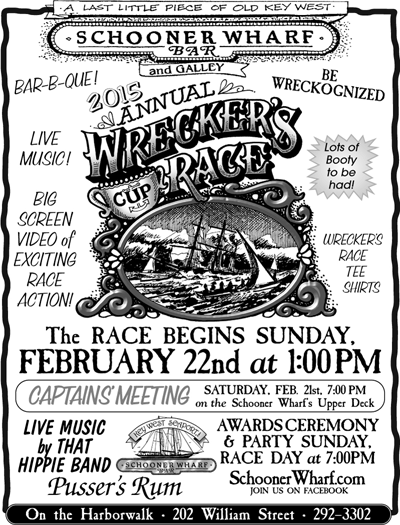 2015 Flyer
For more information, do not hesitate to call Evalena at or Sheree at 292-9520
Past Winners
2005 Race Results 2006 Race Results 2007 Race Results 2008 Race Results 2009 Race Results 2010 Race Results 2011 Race Results 2012 Race Results 2013 Race Results 2014 Race Results