The Battle Lines are Drawn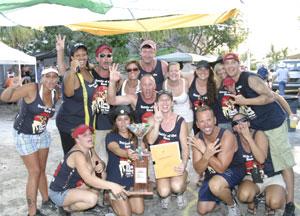 A day of beers, bartenders, margaritas and mayhem helps to dramatically improve the lives of local residents and local causes – only in Key West.

The 18th Annual Battle of the Bars at Schooner Wharf Bar will take place Sunday, August 7th at noon and local "bar armies" are preparing for battle and hi-jinks.

Teams of seven race against the clock and each other in a hilarious obstacle course that fills the street in front of Schooner Wharf Bar and lines the pockets of two local charities.

In the race, team members must mix a perfect margarita, serve it without spilling, tap a keg, sort recyclables, and chug a beer. 7 members in a team plus a maximum of 2 alternatives will be allowed.

Judges' decisions are anything but final, as teams are encouraged to bribe the judges to enter the next round if they didn't make it by having the best times, for more attempts at the charity hilarity.

The battle lines have been drawn ever since the now five-time winners "The Raw Bar Rowdies" took home the 2010 trophy and all the accompanying – and insufferable – bragging rights.

Team "Raw Bar Rowdies" from Half Shell Raw Bar have last year's championship title, with a final incredible round time of 1 minute, 52 seconds. Team "Coral Reefers" captured second place, and third place went to Dante's "Los Diablos."

The Raw Bar crew is hoping for a repeat victory this year, but they face stiff competition in the annual relay race that pits bartenders from local watering holes and restaurants against each other.

Winning team captain Stacey Schaaf said "We know the competition is going to be tough but we are not going to let that daunt us." We are fine tuning our skills even more. Bring em' on! The more the merrier and more money for two good causes!"

The coveted 2010 Most Outrageous Costume award went to Sebago's "Southernmost Side Show and Circus Freaks" for the fifth time. Honorable Mentions for Costume were awarded to Southernmost Beach Café's "South Beach Beekinis". and Hard Rock Café's "YMCAints."

Last year's Deepest Pockets award again was shared between Cowboy Bill's, who entered two teams – "Bill's Bootleggers" and "Reloaded Renegades" -- and Irish Kevin's "Dropkick Mayhem". The teams raised a combined total of $7,425. Irish Kevin's have been winners of Deepest Pockets for four years; Cowboy Bill's for three years.

Schooner Wharf Bar owner and event founder Evalena Worthington works with others each year to select the charities that will benefit from Battle of the Bars. The 2010 contest raised $23,890 for The Sister Season Fund, benefiting hospitality and tourism workers in need of assistance, and the Key West Wildlife Center, which rescues, rehabilitates and releases birds.

The event that has raised $215,548 since 1994 will once again benefit two local worthy causes, the Florida Keys Healthy Start Coalition and the Cancer Foundation. The coalition helps new moms and babies get a healthy start in life, while the Cancer Foundation helps local cancer patients pay their bills while undergoing expensive treatments, so they can focus on getting better, instead of worrying about the power bill.

Worthington said, "The generosity and creativity of the teams in raising the money, along with their never-ending enthusiasm, continues to be amazing. The camaraderie among the bar and restaurant staff, money raised and the fun times make this annual event a fabulous day we always look forward to."

Most teams begin their fund-raising efforts long before the August battle. Some have bake sales and/or donation jars, while others ask their employees for a portion of their nightly tips. In addition to fund-raising, the teams gather far ahead of time to hone their skills in the obstacle course.

The party starts at noon on August 7th, when emcees Bill Hoebee and Magic Frank introduce the teams to the packed crowd of spectators who can cheer on their favorite teams, donate to a great cause and enjoy cold drink specials all afternoon.

Teams interested in entering can sign up. For information, call Evalena at 292-3773 or visit our website at www.SchoonerWharf.com.