For Immediate Release: Re-scheduled for December 8, 2005 at 5:00pm
Schooner Wharf Bar Fantasy Mile Fun Run
Re-scheduled for Thursday, December 8, 2005 5:00 PM
The Seventh Annual Schooner Wharf Bar Fantasy Mile Fun Run will be re-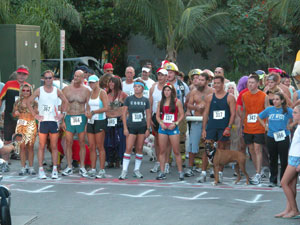 scheduled for Thursday, December 8, 2005 at 5:00 PM. Costumes are encouraged for this One Mile Race through the scenic waterfront of the Historic Seaport. Categories will include overall fastest, best costumed pet/owner divisions and best overall costume divisions. Registration fees will be $15.00 . The first 100 entrants will receive a specially designed t-shirt by local artist Art Winstanley.
Awards will be given to First through Third Place Overall Male & Female , and First through Third Place Best Costume, First Place Best Pet/Owner Costume and First through Third Best Overall Pet Costume. Lotís of giveaways and special prizes for winners.
Entry forms can be picked up at the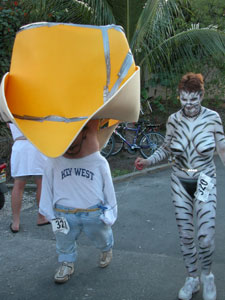 Schooner Wharf Bar and Local Fitness Centers The Registration Booth will be open at the Schooner Wharf Bar at the foot of William Street on December 8 from 5PM till 7 PM. Also before the race begins on race day 5 PM till 6:30 PM.
The course will be a flat one mile course starting at the Schooner Wharf Bar . The One mile course will take you through the Historic Seaport. Proceeds will benefit the Key West High School Running Programs and the Zena Fund. Drop off Entry Forms to the Schooner Wharf Bar at 202 William Street For information call Barbara Wright/Event Coordinator at 305-296-7182.
Sponsored by The Schooner Wharf Bar, BW Promotions, Key West Southernmost Runners, Pepsi Cola, and Prizes from many great Key West establishments.
MEDIA: Contact Barbara K. Wright at 305-296-7182 for more information

CLICK HERE FOR REGISTRATION FORM