DECK THE HULLS!!! CALLING ALL CAPTAINS & CREW
2004 Results 2005 Results
Vessels in the 2006 Schooner Wharf Bar/Captain Morgan Lighted Boat Parade Available for Charter. See & Be Part of the Parade, Come Join in the Magic!!!
Schooner Western Union - 305-296-1766
Jolly II Rover - 305-304-2235
Black Duck - 305-923-3888
Liberty Clipper-305-292-0332
Schooner Island Belle - 305-304-2275
Electric Boat Charters - 305-292-0092
Sebago Catamarans -305-294-5687
Annual 2005 Schooner Wharf Bar/Captain Morgan
Lighted Boat Parade DVD - $15.00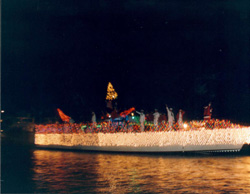 Schooner Wharf Bar, is once again proud to present the 16th Annual Schooner Wharf Bar/Captain Morgan Lighted Boat Parade. This favorite holiday maritime event will take place on Saturday, December 16th at 8:00 p.m. in the Key West Bight and Harbor. Festivities will start off at 7:00 with the Gerald Adams Elementary Steel Your Heart Band performing favorite Christmas carols.

It is a parade is of mostly local boats from the keys creatively decorated with bright lights, live music, choirs, steel drums and animated holiday themes. A true Key West maritime tradition enjoyed by Conchs, Key Westers and visitors from all over the world.

The legendary sax man Clarence Clemons will lead the way through star lit waters in his second appearance as Grand Marshall in the 15th Annual Schooner Wharf Bar/Captain Morgan Lighted Boat Parade.

Clemons will sit, perched amid dazzling holiday lights aboard bedecked vessels and will perform for the crowds of spectators lining the waterfront.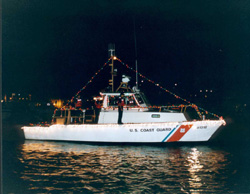 The "Big Man" who is well-known for adding another dimension to the sounds of Bruce Springsteen's E Street Band, has become a frequent visitor to Key West and the Schooner Wharf Bar, often sitting in on surprise jam sessions at the waterfront stage.

The powerful sounds of Clemons' sax will reverberate through the harbour Saturday, December 17th, while thousands of tiny Christmas lights on the lighted boats reflect Key West's true holiday spirit as mistletoe hangs from masts, and Santa dons a Hawaiian shirt and trades his egg nog for a rum & coke.

This year's cash awards and prizes total over $14,500 in value, and thanks to the generosity of our sponsors, are even more spectacular than last year's gift awards. Twelve Winning Places will be Awarded!!! There is plenty of incentive for our island's creative mariners.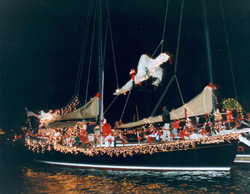 All participating boats, who did not place, will be eligible in an impressive $1,500 Free Raffle to Win an 18K Gold Recreation of an ATOCHA Artifact, donated courtesy of the Mel Fisher Society, a complete set of Explorer Breathable foul weather gear courtesy of West Marine, dinners at premier Key West restaurants, hotel stays, watersport adventures, Schooner Wharf gift certificates, bottles of Captain Morgan rum and much more!!!

The Captains meeting will be held Friday, December 16 at 8:00 p.m. on the upper-deck of the Schooner Wharf Bar, with complimentary hors d'oeurves and libations to celebrate the season. Captains and crew we hope to see you there.

The Lighted Boat Parade is a big family affair for Key West and the Florida Keys, parade participants and spectators on the docks watching the parade feel as if they are part of one big family.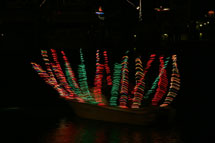 The decorations on the boats are plentiful and very imaginative. Last year's winner was The Miss Quinn Key with the Del Ashburn family and friends, their "Dancing Lights" theme was a colorful and spectacular display. For three years previous PT-728 WWII Torpedo Boat had won first place, in 2002 PT-728 provided a spectacular fire works display bringing Santa Claus and Mrs. Claus to Schooner Wharf Bar. 2003 had Captain Bill Baumfalk performing Christmas carols to the crowd of spectators. Captain Mike Bankester with the Boca Chica Sailing Club is always a tough contender, a crowd favorite was their animated display of lighted dolphins jumping in and out of the water.

Past years have seen the Grinch, lighted pelicans, sea horses, manatees, ginger bread men, Santa's sleigh, komorahs and doves of peace, Who can forget Santa climbing up the fireplace on a mast, or the wonderfully lit 30 foot art deco angel in the rigging? Dancing candy canes and gaily wrapped gifts, toy soldiers and full choirs and steel bands grace the decks throwing candy and beads to the delight of spectators. It's an unforgettable magical night, a definite highlight of the holiday season.

The boats come very close to the docks at Schooner Wharf to give the viewers and the judges a good look at all the creative, imaginative holiday decorations. You can sip on your favorite holiday drink such as Swedish glogg, hot apple jack or eggnog, while watching this magical display of holiday spirit and listening to the hot island sounds of the Reggae Reindeers.

The best viewing is at Schooner Wharf Bar, where the judges stand is located and at the Lighted Boat Parade Party at Conch Republic Seafood Co. It's time to hang mistletoe from the mast and string lights on the rigging. All interested parties please contact Evalena or Sheree at 292-9520.

Schooner Wharf Bar wishes you Seasons Greetings and a happy and safe boating year.