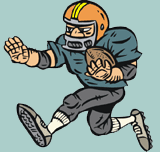 Spend your NFL Championship Sunday under the stars at the popular harbor walk hangout, Schooner Wharf Bar. Football fans join friends February 12th to watch the gridiron war at the waterfront.

Watch the big game at the Schooner Wharf Bar tropical yard line. Sit dockside and watch the game on huge outdoor screens and several televisions with surround sound throughout the bar.

Football fans can enjoy free shots when your team scores, great giveaways, Icy cold beer and shots of Jagermeister, tropical specialty cocktails and a live remote radio broadcast with Hoebee and WAIL 99.5.

Everyone is a winner, regardless of the final score at the Schooner Wharf Tailgate party!!!