DECK THE HULLS!!!
Dec 10th

2022 Lighted Boat Parade Registration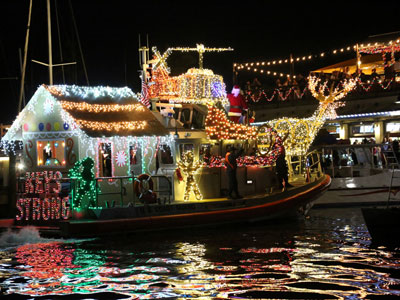 The holiday season in Key West is decidedly different than it is in northern climes. 31st Annual Schooner Wharf Bar/Absolut Vodka Lighted Boat Parade --- set to sail into our southernmost city's Key West Bight and Harbor on December 10th at 8:00pm. For Key West and the Florida Keys, it's a tropical tribute to the season and a big family affair. Parade participants and spectators on the docks watching the parade feel as if they are part of one big family.

The parade starts at 8 p.m. Saturday, but the family fun begins at 6 p.m. along the brilliantly decorated Harbor Walk, while the Bahama Village Music Program "House of Pan" steel band chimes in with Caribbean, calypso Christmas carols to please the crowds along the warm winter waterfront. The festivities continue with the island vibe of sound of steel pans. Get your holiday Caribbean on with reggae, soca and calypso!

There are scores of delightfully decorated motor and sailing vessels that compete for bragging rights and there are boatloads of prizes with a Free Raffle. The prizes are guaranteed to spur our local creative seafarers to reach their artistic peaks. Long hours go into crafting inventive designs and stringing garlands and icicle lights from bow to stern.

Vessels have ranged from a kayak with battery-powered lights, to fishing vessels, to classic schooners. Past winners have included dolphins jumping in and out of the water, as well as manatees, pelicans, sea horses, and other island creatures. Look for palm trees—not spruce, fir or pine—aboard the holiday vessels.

And don't forget the conch shells, this is the Conch Republic after all. Add a sprinkling of the Grinch, spinning ornaments, dancing gingerbread men, and you have the makings of a Key West maritime holiday tradition.

Entries brings Santa's sleigh directly to the judges' stand at Schooner Wharf Bar. And why not? Along with a traditional ham dinner, hot apple jack, eggnog and other seasonal libations are available to toast the holiday while watching for jolly old Saint Nick to climb up the fireplace on a mast (as did one winning entry's boat).

Children will delight in the chance to catch candy and beads thrown to spectators from ships' decks, while viewers of all ages will admire the creativity of light displays and cheer for their favorite vessels.

A starry night, a festive crowd and thousands of twinkling lights climbing heavenward from the sea—that's Key West's way of saying "Happy Holidays!" So join in spreading the spirit where mistletoe hangs from the mast and strings of lights adorn the riggings: at the 31st Annual Schooner Wharf Bar & Galley Lighted Boat Parade.