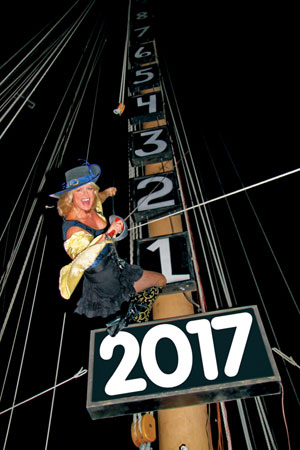 Join your friends and make new ones at the Schooner Wharf Bar New Year's Eve Celebration.

The popular waterfront watering hole once again will present its nautical New Year's Eve tradition with "The Lowering of the Pirate Wench" from the towering mast of the tall ship America 2.0 docked in front of the bar in the Key West Bight.

Everyone's favorite pirate wench and co-owner of Schooner Wharf Bar, Evalena Worthington, will descend dramatically against large, illuminated countdown numbers. The stroke of midnight will signal the start of 2020 with cannon fire and the jubilant sound of horns and noisemakers from the crowd against a backdrop of the ship's crew dressed as pirates.

Schooner Wharf has complimentary hats, party favors and horns for everyone to feel festive while enjoying holiday drink specials and live music throughout the day and night. The bash was rated by AOL as the No. 2 New Year's party in the nation – second only to the Times Square madness in New York City.
We made the Huffington Post's 13 Amazing New Year's 2014 Photos From Around the World. Rob O'Neal's photo of Evalena at Schooner Wharf in Key West was the only photo chosen from this continent!

The festivities start early with guitarist Michael McCloud taking the stage from 11:30 p.m. – 4:30 p.m. Michael has an incredible ability of commanding the audience with his unique humor and original music and showmanship. Followed by some of the best music this island has to offer!
As the midnight hour approaches, DJ Kid Kelly will play party favorites in anticipation of the Auld Lang Syne. The event is emceed by Key West magician Frank Everhart and radio personality Bill Hoebee. Hoist your drink – and your eyes – toward the top of the towering mast as the countdown begins and another year ends.

But the end of the year isn't the end of the party – the Schooner New Year rocks until 4 a.m. All this and No Cover Charge.

Have a safe and exciting New Year, from your friends at Schooner Wharf Bar, "A last little piece of old Key West."
For more information, please call Schooner Wharf at (305) 292-9520 or visit schoonerwharf.com – and we're also on Facebook.

Have a safe and happy New Year from your friends at Schooner Wharf Bar.
Where locals feel at home and visitors feel local!!!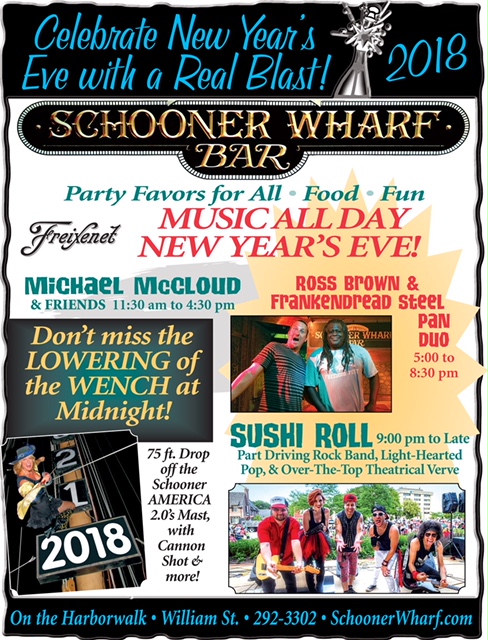 2018 Flyer - 2019 Flyer Coming Soon
2018 New Year's Lowering of the Pirate Wench | 2017 New Year's "Lowering of the Pirate Wench" | 2016 New Year's "Lowering of the Pirate Wench" | Rigging in 2015 | Rigging in 2014