SCHOONER WHARF'S MEL FISHER CELEBRATION
Trade treasure tales and priceless memories of Key West's King

2017 Mel Fisher Celebration Photos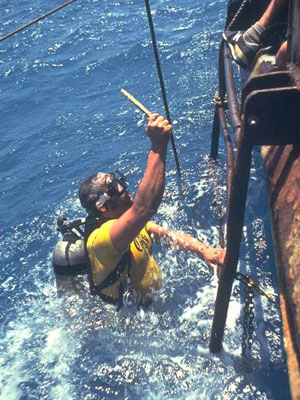 Spend a golden day at Schooner Wharf Bar, where Spanish galleons, treasure hunting ships, golden discoveries and priceless memories of the man who made it all happen – Mel Fisher – are on tap for this year's Dock Party to kick off Mel Fisher Days.

The celebration of Key West's golden dream weaver begins at 3 p.m. Saturday, July 15th here at Schooner Wharf, where Mel Fisher "made his mark," when his handprints were cast in a special mold and a section of the bar top is dedicated to his achievements.

Although it took Mel years to find the $400 million mother lode of the Spanish galleon Nuestra Senora de Atocha, it never took him long to find his friends at Schooner Wharf, where he could share his stories while keeping a sharp eye on the water that held the riches he was seeking.

This year's Dock Party will celebrate the 32nd Anniversary of Atocha's Mother Lode Discovery and the "good ole' days" by welcoming the 90' JB Magruder treasure salvage vessel back to the docks behind Schooner Wharf. For the second time since the 1980s, the 100-foot working vessel will be on display downtown, showing off the latest treasure-finding technology that scours the ocean floor for centuries-old coins, gold bars, gold chains, emeralds and silver ingots.

Meet the Atocha divers and Magruder crew as they return from treasure diving and hear tales of high-seas and high-stakes adventures from Mel's Golden Crew, current salvors and members of the Fisher family.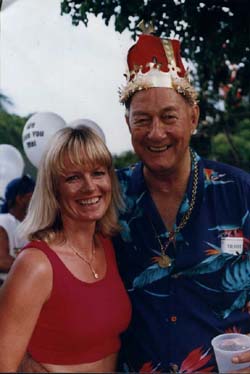 The Dock Party will include a limited number of tours of the treasure hunting boat are available between 4:30 and 7:00 pm. Advance registration discount tickets are available now at www.MelFisherDays.com Attendees will have a chances to win cash and treasure with the 50/50 raffle and you can take a chance to win a Atocha Emerald with the popular "Have Your Cupcake and Eat It Too!" raffle.

This year's Lifetime Achievement Award will be presented to Andy Matroci. Andy worked his way up to 1st mate on the Mel Fisher salvage vessel Dauntless. On July 20th 1985 he and Greg Wareham were the first divers to see the elusive Atocha Motherload. During his tenure with the Fisher family, Andy has also captained or co-captained the M/V Dauntless, M/V Magruder, M/V Virgilona, and the M/V Swordfish, working on the Atocha, the Margarita as well as doing some work on the 1715 and 1733 fleets. Needless to say, Andy has countless fascinating stories of the recoveries, celebrities, and adventures that followed as the result the great treasure find of the Atocha Motherlode.

Today's the Day…to celebrate Mel Fisher and his golden crew! Mel always said that "This place is a treasure," so….come discover one of our island's favorite watering holes for yourself!

See you at the Schooner Wharf Bar for the Dock Party July 15 to kick off Mel Fisher Days 2017 as the JB Magruder arrives from treasure hunting and docks behind our bar!