Get Groovy at "Wharfstock"!
October 20-29
Live Music, Cold Libations, Great Food, and Peace & Love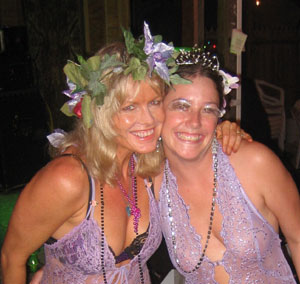 Return to the days of Super-Powered peace, love, and music--Woodstock style. Everyone will be getting groovy with tie-dye, flower power, and psychedelic colors October 20-29 at the Schooner Wharf Bar.

Enter our '60s Costume Contest on Wed., October 25th…. You could take the prize for Sexiest Hippie Chick or Grooviest Dude! Music by "That Hippie Band" and "Happy Dog Band".

Enjoy live music, cold drinks and great food. The party will have live music by That Hippie Band and Happy Dog Band, groups of local peace-lovin' musicians reaching back in time for favorites from the Grateful Dead, Crosby, Stills and Nash and other Woodstock legends. The party starts at 7:00 p.m. Contest judging starts at 8:30 p.m. FREE to enter and FREE to attend.

Friday night it's Wharfstock Trivia - With "Name that Woodstock Tune" from 5:00 - 8:30 pm. Gary Hempsey and Jessie Wagner will be playing the music of Woodstock while challenging the audience with their Woodstock knowledge. It's time to bring your love beads back!

Be sure to return to Schooner Wharf after the parade on Saturday, October 28th for our Walk-On Costume Contest, too! Thursday - Saturday rock the night away with Sushi Roll Band! Sushi Roll quickly perfected their own unique blend of high-energy dance music and rock n' roll swagger. They are one part driving rock band, one part light-hearted pop, and one part over-the-top theatrical verve. They easily transition between revved-up versions of your favorite pop and rock hits by artists like Bruno Mars, Journey, Lady Gaga, AC/DC, Pink, Beastie Boys, The Jackson 5 as well as many others…connecting them into a non-stop musical journey!

So don your tie-dye cape, turn on, tune in and drop in for top-notch music, psychedelic décor and cold drinks. It's all happenin' at Schooner Wharf Bar, 202 William St. For more information call (305) 292-9520, visit Schoonerwharf.com, or Facebook.