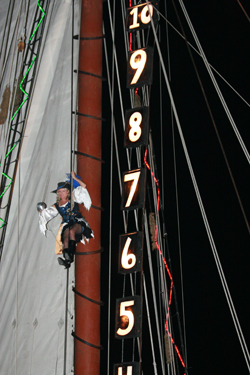 Join your friends and make new ones at the Schooner Wharf Bar New Year's Eve Celebration, where the past meets the future and the present is a whole lot of fun.

Schooner Wharf Bar is presenting its original New Year's Eve tradition, the "Lowering of the Pirate Wench" from a 100-foot high mast of the tall ship Halie and Mathew docked in front of the popular waterfront watering hole. They will be lowering pirate wench, Evalena Worthington, co-owner of Schooner Wharf, against large illuminated countdown numbers – from 10, 9, 8 and so on, until the stroke of midnight where "2010" will light up to launch the new decade. All of this is against a backdrop of the ship's crew dressed as pirates, the release of white balloons and cannon fire. Complimentary party favors, hats and horns add to the festive atmosphere.

The day's fun starts early with live music from Michael McCloud and Friends, followed by the island rhythms and steel drums of Toko Irie and Yban Agbo. Next up from 10:00 pm till late is the bounding energy and funk of Biscuit Miller and the Mix. Bring your dancin' shoes for a "pipin' hot biscuit" full of soulful blues stew. Miller has played with such legends as Muddy Waters and Ike and Tina Turner. Never a dull moment at this happening place, prior to the countdown a DJ plays festive holiday music to entertain the harbor walk crowd.

Join everyone on the harbor walk for a musical line-up guaranteed to take you dancing into the new year, and for COUNTDOWN 2009 into the new year 2010!!!
Have a safe and happy New Year from your friends at Schooner Wharf Bar.
Where locals feel at home and visitors feel local!!!