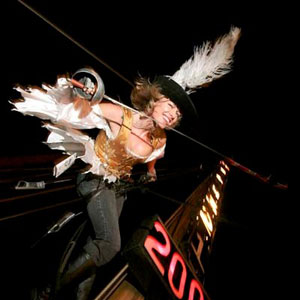 Join your friends and make new ones at the Schooner Wharf Bar New Year's Eve Celebration, where the past meets the future and the present is a whole lot of fun.

You don't want to miss the Schooner Wharf Bar's original New Year's Eve tradition the "Lowering of Pirate Wench" from the mast of tall ship Schooner Liberty Clipper, accompanied with cannon blast, the release of doves, party favors and more!!!

The countdown starts 10 minutes before midnight, but the fun starts early in the day with the musical humor of Mike McCloud and Friends from noon - 5:00 p.m. Dance and groove the night away with the Robert Douglas Band from 5:30 till 9:30 and Cool Breeze with Raven Cooper from 10:00 p.m. till late (Funk, Pop, Motown & Rhythm & Blues ... into the New Year!)

Join everyone on the harbor walk for a musical line-up guaranteed to take you dancing into the new year, and for COUNTDOWN 2008 to 2009!!!

Have a safe and happy New Year from your friends at Schooner Wharf Bar. Where locals feel at home and visitors feel local!!!

For more information, please call (305) 292-3302!

The Robert Douglas Band will take the stage from 5:30-9:30pm

Cool Breeze with Raven Cooper from 10:00 p.m. till late