At the foot of William Street on the Historic Harbor Walk, really is...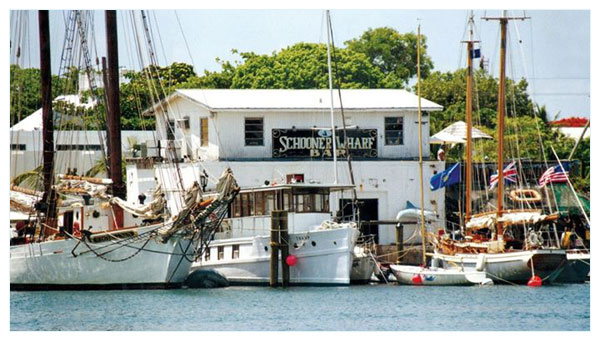 SCHOONER NEWS
Attention All Florida Keys' Bar & Restaurant Staff:
The 26th Annual Schooner Wharf Battle of the Bars, (also known as Bar Wars), has been relocated to "cooler" weather this January!

More time for "on the job" training & team recruitment, to conjure creative costumes, and fund-raise for the deepest pockets award! We'll keep you posted when the exact Battle date is in January.

As always, there will be prizes for most accurate and fastest (1st, 2nd & 3rd Places), Deepest Pockets (1st Place + Honorable Mentions) and Most Outrageous Team Costume (1st + Honorable Mentions.)

In our 25 years, we have raised an outstanding $351,899 for our local charities -- YOU ROCK! Muster your troops and get ready to earn your stripes on the Battle front!

For more info. or any questions, please call the SWB Office at (305) 292-9520 or Evalena at (305) 292-3773.
---
Don't Miss This!
Fantasy Celebration Oct 18-27th
Live Music, Cold Libations, Great Food, & Old and New Friends. Schooner Wharfstock – Tune In, Turn On & Drop In!

Including:
'60s Hippie Costume Contest Oct 23rd
7:00 pm. - Prizes for Sexiest Hippie Chick and Grooviest Dude

Annual Walk-On Costume Competition Oct 26th
After the Parade. Anyone can enter, and All Costumes are Eligible. Tons of Prizes!

Coming Soon
Parrotheads in Paradise - No Plane on Sunday
November 3rd
---
Recent Events and Results
---

Check us out on the TV show "Drinking Made Easy" aired on HDNet!

Host Zane Lamprey and his sidekick Steve were here last summer. They visited with Evalena and Vicky while enjoying our delicious Dark & Stormies...lots of fun!
click for video

"Rounding the bend on the Historic Seaport harbor walk, Key West's favorite locals bar comes into view like a tropical oasis.... The sounds of the best musicians in the Keys fill your ears; The mouthwatering smell of the freshest local seafood in town tempts your tastebuds; The sight of the most eclectic mix of customers -- and their pets -- anywhere, will bring a smile to your face.

You are now approaching The Schooner Wharf Bar, a last little piece of old Key West that just keeps getting better with time. An island institution since 1984, this funky open-air bar -- located on the site of the old Singleton Shrimp factory -- beckons tourists and locals alike with Its unique blend of special events, delicious cuisine and great live music.

The Schooner Wharf is a true Key West experience that's not to be missed, regardless of your station in life. Take a look at our menu here!
SERVING BREAKFAST on the Bight
7:30 a.m. - 11:00 p.m.. Monday - Saturday
7:30 a.m. - Noon on Sundays
Full Menu Featuring
Pancakes - Fresh Fruit - Granola - Omelets
Breakfast Sandwiches - Apple wood Smoked Bacon
Jimmy Dean Sausage & MORE!!!