At the foot of William Street on the Historic Harbor Walk, really is...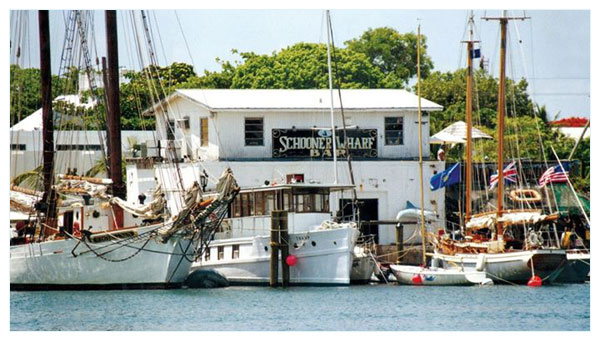 SCHOONER NEWS
Don't Miss This!
21st Annual Open Air Art & Music Affair
March 6th
A colorful waterfront setting, arts and crafts by skilled Florida Keys artisans and tunes by talented local and visiting musicians are top attractions at the 21st Annual Schooner Wharf Open Air Art & Music Affair. The event is set for 9:30 to midnight, Saturday, March 6th, in Key West's Historic Seaport.

Open Air Art & Music Affair Application to Exhibit & Show Guidelines


Coming Soon
36th Annual Schooner Wharf Wrecker's Cup Race
March 28
Ahoy Mates! It's time to clean the bottom and pile on the sails.

This all-in-fun race series recalls the tradition of the wreckers in the Key West of the 1800's. Vessels laden with rich cargoes from Gulf and Caribbean ports often became victims of storm and the unmarked reefs off Key West.

The Captains' Meetings are held in the Sail Loft at Schooner Wharf at 7:00 p.m. the Saturday before each race. Captains enjoy complimentary Pusser's Rum punch while reviewing race procedures.
Captains - in Sail Loft not Upper Deck

The Awards Ceremony & Party is held at 7:00 p.m. on Sunday, race day. Captains & crew can see themselves under sail while viewing film footage taken of the race by the official race committee boat. The popular Big Daddy Rich will be playing Rock, Soul, Blues, Country, Rare 1 Hit Wonders and AM Gold from the 60s and 70s all with fun and energy.

Trophies and prizes are earned by the top 3 vessels in 6 to 7 different classes --schooner, multi-hull, classic, monohull 29' and under, monohull 30-39 feet, monohull 40 feet and possibly a Hobie Cat class!

At the race start Key West harbor is a magnificent sight, filled with colorful sails and spinnakers on vessels ranging from 16 feet to 120 feet.


NEW: ENTER THE SCHOONER WHARF WRECKER'S CUP RACE SERIES ONLINE

Recent Results:
2021 Wreckers Race Results
---

Check us out on the TV show "Drinking Made Easy" aired on HDNet!

Host Zane Lamprey and his sidekick Steve were here last summer. They visited with Evalena and Vicky while enjoying our delicious Dark & Stormies...lots of fun!
click for video

"Rounding the bend on the Historic Seaport harbor walk, Key West's favorite locals bar comes into view like a tropical oasis.... The sounds of the best musicians in the Keys fill your ears; The mouthwatering smell of the freshest local seafood in town tempts your tastebuds; The sight of the most eclectic mix of customers -- and their pets -- anywhere, will bring a smile to your face.

You are now approaching The Schooner Wharf Bar, a last little piece of old Key West that just keeps getting better with time. An island institution since 1984, this funky open-air bar -- located on the site of the old Singleton Shrimp factory -- beckons tourists and locals alike with Its unique blend of special events, delicious cuisine and great live music.

The Schooner Wharf is a true Key West experience that's not to be missed, regardless of your station in life. Take a look at our menu here!
SERVING BREAKFAST on the Bight
Breakfast served Fri. & Sat. 8:00 am - 11:00 am & Sun 8 am till Noon
Breakfast served Mon. thru Thurs. 8:30 am - 11:00 am.