RESULTS -- BATTLE OF THE BARS 2005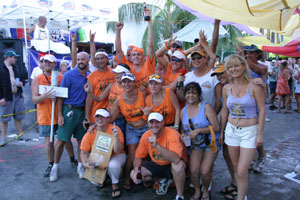 Sunday, Aug. 7th was no day of rest for 43 teams from Keys bars and restaurants as they competed in the 12th annual Battle of the Bars at Schooner Wharf Bar.

Excitement was high as the 7-person teams ran the obstacle course – poured a margarita, recycled bottles, rolled and tapped a keg, and drank beer.

Team T.K.'s Trouble from Turtle Kraals took home the championship title for the third year, along with a trophy and bragging rights, with a final round time of 1 minute 55 seconds. The Parrot Troopers from the Green Parrot captured second place. Third place went to Conch Republic Seafood Company's Ali's Alcoholic Army, while the coveted Most Outrageous Costume prize went to the Geeks and Greeks of the Bourbon Street Complex. An Honorable Mention for costume was awarded to Sebago's Oceans Seven and to Schooner Wharf's own Mad Dogs 20/50.

4th Place Raw Bar Rowdies (Half Shell Raw Bar)
5th Place Bag to the Bone (Bagatelle)
6th Place Ocean's Seven (Sebago)
7th Place Mad Dogs 20/50 (Schooner Wharf Bar)
8th Place Absolutely Fat Jagermasters (Fat Tuesday)
9th Place Kings of the Block (Rick's)
10th Place The Drunken Stones (Hard Rock Cafe)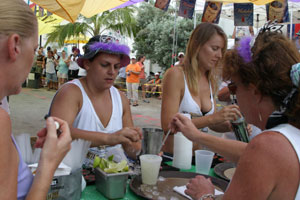 The real winners of Sunday's festivities were the Big Brothers/Big Sisters organization. The $35 entry fee ($5.00 per team member) and all "bribes" to the referees are donated to that organization, and this year's Battle of the Bars raised more than $10,000.

"It's a day of fun and hilarity in the name of charity. I love to see the smiles on people's faces and the excitement of all the teams! The energy level is amazing.
We are proud to have exceeded $100,000 for Big Brothers/Big Sisters!" said Evalena Worthington, co-owner of Schooner Wharf Bar and organizer of the games.

Next year's game day is slated for August 6th. Sign up before July 27th and have your team's name printed on the collectable T-shirt. This event is also part of the Key West Restaurant & Bar Association's annual Wine & Food Festival.

For more information or to sign up, stop by the Schooner Wharf Bar or call 292-3773, or e-mail Schoonerwb@aol.com.