2012 Wrecker's Cup Race Series!!!
No protests, no pageantry, just race with us - or against us!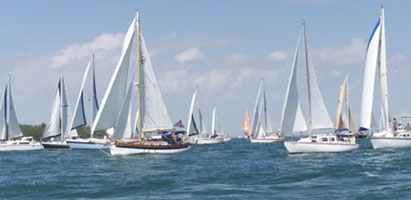 It is once again time for the Wrecker's Cup Race Series, when local captains, crews and passengers race the seven miles to Sand Key on an annual quest for bragging rights on this small island.
The day of "wreckoning" is March 25th at 1:00 p.m. when ships will compete in SEVEN different classes; Classic, Schooner, Multihull, Monohull over 40 feet, Monohull 30 – 39 feet, Monohull 25-30 feet, Monohull 24 feet, and if we have enough entries there will be a J-24 class.
3 Start Times:
1:00 Start – Schooner, Multihull Class, Classic
1:05 Start - Monohull Over 40' Class, Monohull 30'-39' Class
1:10 Start – Monohull 24' and Under Class, Monohull 25'-30', Possible J-Boat Class
1st, 2nd & 3rd place will be awarded in each division, with trophies, Pusser's Rum & Schooner Wharf Bar Tabs as prizes.
The entry fee is $30.00, which includes free drinks and hors d'oeuvres at the Captains Meeting on Saturday, March 24, at 7:00 p.m. on the upper deck of Schooner Wharf.
The Awards Ceremony will take place after the race on Sunday at 7:00 p.m., where all wreckers can feast on a BBQ dinner and share sailing stories while watching their maritime adventure on a big screen television. Dance the night away to island sounds of Reggae Party.
Winners will receive prizes from race sponsors, including Schooner Wharf Bar, Pusser's and antique looking trophies commemorating the victory. The "Great West Marine Nautical Raffle" is free for all participating vessels, with impressive prizes from the folks that "make boating fun".
But the crews and captains are not the only ones who can participate in the fun. The race is a great way for captains to fill their charter boats for an afternoon sail. As visitors to the island get to take part in a local adventure, spectators can watch the madness from Schooner Wharf Bar while getting an up-close look at traditional and majestic wooden boats.

2012 Flyer
click above for larger image
For more information, do not hesitate to call Evalena at or Sheree at 292-3302

Past Winners
2005 Race Results - 2006 Race Results
2007 Race Results - 2008 Race Results
2009 Race Results - 2010 Race Results
2011 Race Results - 2012 Race Results