Leather and Lace, Chrome and Steel for Bike Week
The party starts with hot slinky burlesque, Harleys and hell raising…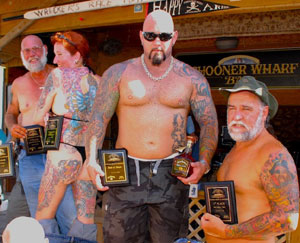 With the friendly rumble of the Poker Run, hot bods, Harleys, skin and ink combine for a roaring weekend at Schooner Wharf, beginning September 14th.

So park your Hog and then eat some at the Welcome Party and Hog Roast on Friday at 5 p.m. Enjoy mouth-watering barbequed pork -- marinated, dry rubbed, and smoked. The tangy smell of Schooner Wharf's famous barbecue will tempt your taste buds. Add all the fixin's and it's enough to satisfy a hearty appetite. Kick off the weekend and kick up your boots to smokin' rock 'n' roll, funk, soul and blues from Betty Fox & the Dirty Bastards band all night.

Then rumble back down to the legendary waterfront watering hole Saturday afternoon for the Paradise Tattoo Show and Contest. Cash, trophies, gift certificates and prizes from Schooner Wharf Bar and Paradise Tattoo will be awarded for the Best Tattoo in seven categories, plus Best of Show. Registration begins at 2 p.m. for the 3 p.m. contest on stage, emceed by Magic Frank.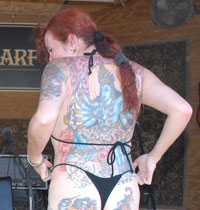 Listen to the musical humor of singer/songwriter Michael McCloud & Friends while checking out the amazing paint jobs – on both skin and steel.

Stick around for another eye-popping, skin-bearing experience, as some of the town's hottest ladies take the stage to show more than ink in the Biker Babes from (Heaven) Hell at 6 p.m. on Saturday. Key West Burlesque will be rocking and rolling with hot and supercharged solo performances that promise to tease and titillate your tailpipes and pop your skid lid. The Biker Babes from (Heaven) Hell is a wild ride with some smoking babes twirling, dancing, and singing their little hearts out while stripping down to nearly nothing! This show boasts a whole bevy of amazingly talented dames with puppies that will keep you purring like a kitten. The racy party is emceed by everyone's favorite cousin-- the bawdy and brash Cowboy Marky. Don't miss this rockin' ride!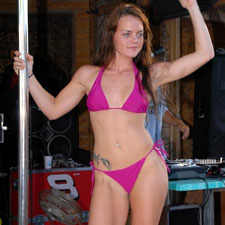 Then settle in for a night of live music and loud mufflers with Betty Fox & The Dirty Bastards. She's Florida's hottest new artist, and together with a powerful band, they belt out a danceable mixture of rock, funk, blues, and soul!

It's all enough to work up quite a thirst, and it's a good thing there'll be drink specials on Jagermeister and Yuengling Lager.

For more information, call Schooner Wharf Bar at (305) 292-3302 or visit our website at SchoonerWharf.com or Facebook.


Click Here for 2011 Winners and Photos
Click Here for 2010 Winners and Photos
Click HERE for 2009 Winners & Photos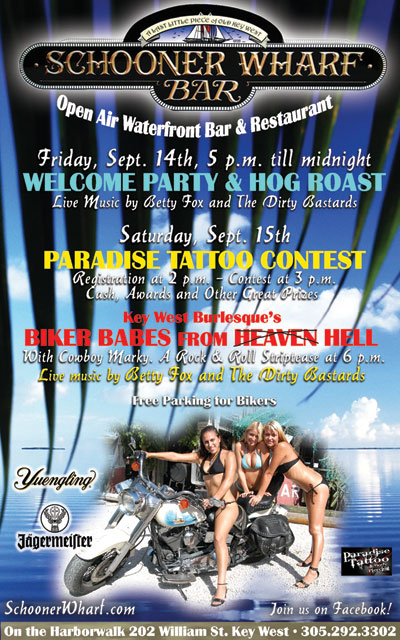 2012 Flyer