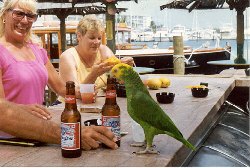 "Down to the Banana Republics, down to the tropical sun, go the expatriated Americans hope to find some fun."
Here come the Parrotheads in Paradise, knowing they'll have some fun in the banana republic bar known as Schooner Wharf, the home of the Parrotheads Kick Off Party, Wednesday, November 3rd, at 2:00 p.m.
The fun begins and ends at Schooner Wharf, which is just steps away from Buffet's recording studio at the Historic Seaport.
Before the tourists are covered with oil, and while the shrimp begin to boil, don your most obnoxious Hawaiian shirt and join your flip-flopped friends at the Parrotheads in Paradise Kick Off Party.
Order a frozen concoction to help you hang on, enjoy free Margaritaville tequila tastings, and waste away at the Schooner Wharf Bar.
While sipping tropical drinks, think back on Mr. Buffett's date of birth, and the names of his children in preparation for the Jimmy Buffett trivia contest, while Michael McCloud & Friends entertain from noon till 5:00 p.m. and Rick Steffen & The Offshore Band will entertain with their Margaritaville island music from 7:00 until 11:00 p.m. And don't miss our other great bands lined up! Jimmy & Jimmy, of Jimmy & The Parrots, Thursday 7-Midnight; Jim Morris & The Big Bamboo Band, Friday, 7-Midnight; and The Jack Mosley Band, Saturday, 7-Midnight.