Schooner Wharf 8k Run "Run with the Big Dogs"
SATURDAY, JUNE 6, 2009 AT 7:30 PM
Click here for 2009 Race Results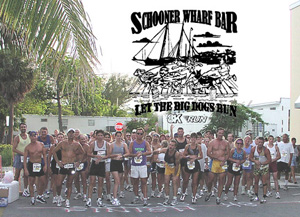 The 11th Annual Schooner Wharf 8K Run will be held on Saturday, June 6, 2009 at 7:30 PM. Run this BW Promotions 8K Race Through Old Town Key West and the scenic waterfront of Trumbo Point Naval Base. Registration fee will be $20. The first 150 entrants will receive a specially designed t-shirt .
Custom made awards will be given to First Place Overall Male & Female, To First Place Overall Male & Female Masters, and First, and Second Place Male and Female and in each age division, Divisions are: 14 and Under, 15-19, 20-24, 25-29, 30-34, 35-39, 40-44, 45-49, 50-54, 55-59, 60-64, and 65-69, 70-74 & 75 & Over. Many prize giveaways and Special Prizes for the Youngest/Oldest Winners!
Entry forms can be picked up at The Schooner Wharf Bar and local fitness centers. Schooner Wharf will have a Special Pasta Dinner for $6.00 on Friday, June 6 starting at 5 PM. Runners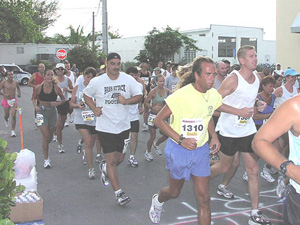 and Guests welcome. The Registration Booth will be open at the Schooner Wharf Bar foot of William Street on Friday, June 5 from 5PM till 7PM and on Race Day, June 6 from 5pm on. Race Packets can be picked up at both these times. After the race, free refreshments for runners and great entertainment starting at 7:30 PM.
The course will be a flat, fast 8K (5 mile) course starting at the Schooner Wharf Bar at the Historic Seaport. Enjoy the scenic waterfront and see a piece of Key West history while running through the Historic Harbor. Proceeds will benefit the Key West High School Track Programs. For information call 305-296-7182 or 305-240-0727.
Sponsored by The Schooner Wharf Bar, BW Promotions, Pepsi, Key West Southernmost Runners, Bone Island Athletic Club and Prizes from many great Key West establishments.
MEDIA: CONTACT BARBARA K. WRIGHT/Event Coordinator AT 305/296-7182 FOR MORE INFORMATION.

Schooner Wharf 8k Run "Run with the Big Dogs" Results
The Schooner Wharf 11th Annual 8K Run with the Big Dogs occurred this Saturday, June 6 with 106 finishers
The course layout took runners down Caroline Street from the Schooner Wharf, into the Coast Guard Base and around Naval Air Station Key West's Fleming Key, providing scenic and pleasant trip for the runners. As always a post race party with Spaten Beer, veggie wraps and endless prizes entertained the enthusiastic crowd for hours more.
Overall Female Winners
1 Bonnie Wood Key West FL 26 1 37:09 7:28/M
2 Melissa Okeeffe Key Largo FL 34 2 37:59 7:39/M

Overall Female Masters Winners
1 Sandy Rogers Largo FL 51 6 41:16 8:18/M

Female Military
1 Michelle Stephens Campbell CA 33 12 43:03 8:40/M
Female 15 to 19
1 Alyssa Sawyer Key West FL 17 4 39:47 8:00/M

Female 20 to 24
1 Sarah Lininger Key West FL 24 13 43:49 8:49/M
2 Vanessa Cotto Orlando FL 23 38 1:03:07 12:42/M

Female 25 to 29
1 Natalia Duke Key West FL 27 8 41:40 8:23/M
2 Faviola Vail Key West FL 26 14 44:20 8:55/M
3 Abby Boburka Boca Raton FL 29 26 49:59 10:03/M
4 Nicole Malo Key West FL 29 27 52:12 10:30/M
5 S Marie Labaw Frederick MD 28 35 56:34 11:23/M
6 Kimberly R Wallen Big Pine Key FL 29 39 1:03:13 12:43/M
7 Amanda Antonides Big Pine Key FL 29 40 1:03:25 12:46/M
8 Alondra Hernandez Orlando FL 25 43 1:08:48 13:51/M

Female 30 to 34
1 Tracy McDonald Big Pine Key FL 33 9 42:18 8:31/M
2 Denis Dunn Sugarloaf Key FL 32 10 42:40 8:35/M
3 Solene Huchon Key West FL 33 11 43:01 8:39/M
4 Nicole Jacobsen Boca Raton FL 32 16 45:09 9:05/M
5 Jill Weaver Key West FL 33 19 47:42 9:36/M
6 Hannah Kirmmse Key West FL 33 22 47:53 9:38/M
7 Jennifer Thomas Dox Marathon FL 30 32 54:36 10:59/M
8 Tara Fowler Key West FL 31 42 1:06:46 13:26/M

Female 35 to 39
1 Marie Laliberte Key West FL 38 3 39:46 8:00/M
2 Emma Boyd Delray Beach FL 36 5 40:30 8:09/M
3 Julie Pertunen Marathon FL 39 17 47:07 9:29/M
4 Angela Tripe Big Pine Key FL 38 18 47:14 9:30/M
5 Kimberly Banning Sugarloaf Key FL 38 21 47:52 9:38/M
6 Rachel Ann Calderwood Summerland Key FL 35 25 49:05 9:53/M
7 Christine Godlewski Big Pine Key FL 37 29 53:51 10:50/M
8 Sarah Hitchcock Lafayette LA 37 30 54:06 10:53/M
9 Taran Edge Key West FL 38 31 54:11 10:54/M
10 Melissa Impallomeni Summerland Key FL 36 36 1:00:49 12:14/M
11 Maria Wilson Key West FL 39 44 1:08:52 13:51/M
12 Sherrill Johnson Plantation FL 38 45 1:18:26 15:47/M

Female 40 to 44
1 Adele Williams Key West FL 42 7 41:28 8:21/M
2 Kelley Valle Key West FL 40 23 48:16 9:43/M

Female 45 to 49
1 Greer Cornell Key West FL 48 24 48:47 9:49/M
2 Christine Scholl Key Largo FL 48 41 1:05:57 13:16/M

Female 50 to 54
1 Edie Kehoe Sugarloaf Key FL 50 28 52:19 10:32/M
2 Bobbie Watson Key Largo FL 51 33 55:19 11:08/M
3 Valerie Kelly Rockledge FL 50 37 1:02:35 12:36/M

Female 55 to 59
1 Ada Duffy Miami FL 56 20 47:46 9:37/M
2 Shirlee Olhaye Key Largo FL 55 34 56:20 11:20/M

Female 60 to 64
1 Herriott Haley Key West FL 62 15 44:49 9:01/M
Overall Male Winners
1 Markus Riefer Nidderau GERMANY 42 1 27:56 5:37/M
2 Jon Williams Miami FL 40 2 28:42 5:46/M

Overall Male Masters Winners
1 Martin Sykut Marathon FL 46 4 30:20 6:06/M

Male Military
2 Keith Bennett Key West FL 29 12 34:49 7:00/M

Men 14 and under
1 Jp Martin Cudjoe Key FL 14 26 41:58 8:27/M
2 Finnian Valle Key West FL 9 32 45:11 9:05/M
3 Jett Valle Key West FL 7 56 1:01:57 12:28/M

Men 15 to 19
1 Francisco Ramirez Key West FL 18 5 30:22 6:07/M
2 Jozef Roman Key West FL 18 8 32:39 6:34/M
3 Matt McKeon Marathon FL 16 50 49:52 10:02/M
4 Cody Fuller Plantation FL 15 61 1:18:27 15:47/M

Men 20 to 24
1 Nathan Landrum Big Pine Key FL 24 3 29:33 5:57/M
2 Stan Ball Marysville CA 24 21 39:55 8:02/M
3 Brad Bishop Key West FL 20 30 43:56 8:50/M
4 Patrick Deja Key West FL 24 52 52:33 10:34/M
5 David Traly Beale Afb CA 20 53 52:59 10:40/M

Men 25 to 29
1 Adam Wood Key West FL 27 6 32:18 6:30/M
2 William See Key West FL 27 22 40:14 8:06/M
3 Wayne McKirdy Woodbury CT 27 23 40:15 8:06/M
4 Benjamin Sundstrom Key West FL 29 24 40:59 8:15/M
5 Eric Blake Orlando FL 28 25 41:14 8:18/M
6 Sam Wenger Marathon FL 26 31 44:19 8:55/M
7 Robert Angell Key West FL 27 37 46:38 9:23/M
8 James Everhart Key West FL 25 40 47:24 9:32/M
9 Quincy Perkins Key West FL 28 43 48:05 9:40/M
10 Sean Collins Yuba City CA 25 47 49:33 9:58/M
11 Zack Morris Marathon FL 29 60 1:10:12 14:07/M

Men 30 to 34
1 Mic Okeeffe Key Largo FL 33 11 34:15 6:53/M
2 Louden Swain Baraboo WI 30 15 36:25 7:20/M
3 William Elkins Key West FL 34 16 36:47 7:24/M
4 Robert Kitrick Key West FL 33 18 37:50 7:37/M
5 Javier Garrido Key West FL 32 41 47:51 9:38/M
6 William Hillyer Key Colony Beach FL 34 54 59:18 11:56/M

Men 35 to 39
1 Dave Claing Key West FL 35 13 34:54 7:01/M
2 Timothy Faucette Key West FL 38 14 36:02 7:15/M
3 Nathaniel Christy Key West FL 38 27 42:22 8:31/M
4 Eric Nelson Key West FL 36 33 45:14 9:06/M
5 Romulo Laxina Key West FL 37 42 48:03 9:40/M
6 Philip Curtis Hallandale Beach FL 38 48 49:38 9:59/M
7 James E Wilson Key West FL 39 59 1:03:52 12:51/M

Men 40 to 44
1 Brian Scott Largo FL 40 10 33:23 6:43/M
2 Mayti Meneses Summerland Key FL 40 17 37:36 7:34/M
3 Mike Behmke Key West FL 42 20 39:24 7:56/M
4 Andy White Key West FL 40 28 42:36 8:34/M
5 Brian Odonnell Key West FL 44 34 45:22 9:08/M
6 Robert Valle Key West FL 42 57 1:01:59 12:28/M

Men 45 to 49
1 Jose Sotolongo Miami FL 47 9 33:17 6:42/M
2 Drew Hamernik Naples FL 49 19 39:04 7:52/M
3 John A Henderson Key West FL 45 39 46:52 9:26/M
4 Gary Burchfield Key West FL 49 44 48:15 9:42/M
5 Scott Smith Key West FL 46 49 49:49 10:01/M

Men 50 to 54
1 Mark Stueve Englewood FL 52 7 32:39 6:34/M
2 Godfrey Lebron Elmont NY 52 38 46:45 9:24/M
3 Steven Ammons Key West FL 53 46 48:42 9:48/M
4 Joseph Allen McLeod Key West FL 50 58 1:02:45 12:38/M

Men 55 to 59
1 Steven McKeon Marathon FL 58 51 49:53 10:02/M
2 Bart Francis Key West FL 55 55 1:00:50 12:14/M

Men 60 to 64
1 Jimmy Kelly Rockledge FL 61 29 43:40 8:47/M
2 Rob Nutter Palm Beach Gardens FL 61 35 46:16 9:19/M

Men 65 to 69
1 Troy Peter Levittown NY 65 36 46:27 9:21/M
2 Wayne Landrum Big Pine Key FL 66 45 48:19 9:43/M

Results By Key West Southernmost Runners